Yoga is like Music: The rhythm of the body, the melody of the mind, and the harmony of the soul create the symphony of life. This year, the International Yoga day coincided with the World Music Day , resulting in a double celebration, with children and teachers of the whole school participating enthusiastically in sessions of Yoga and World Music.
A calm and stimulating yoga display was performed by the students. Different asanas which benefit our body and mind thereby improving our concentration and promoting stamina were displayed.
The Music department had done us proud by organizing for a variety of songs to be sung by the students, thereby creating memorable moments in style.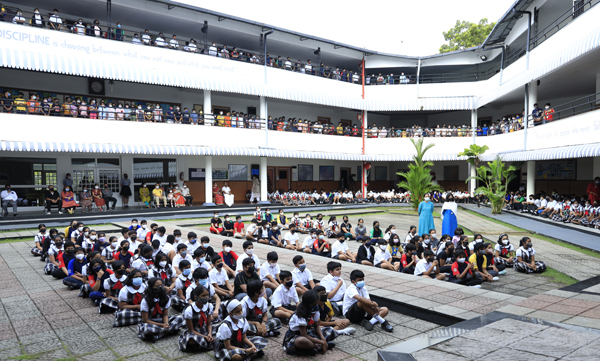 Kinderland
This was in sync with our core concepts of KCH (Knowledge, Character and Health) and pour Fitness programme for the little ones- "Fit Kids Campaign ". Children did different yoga poses (tree pose, cat pose, butterfly pose, camel pose, boat pose, triangle pose, belly breathing, cobra pose, down dog pose) with the sports Instructor during assembly.
'Music is the voice of the soul'.  Children grooved to a variety of musical genres presented before them on this day.  Different songs were sung and enjoyed by the Kindergarten children.
Grade 1 & 2
There was a yoga demonstration by the teachers for the children followed by a sing along programme led by Ms. Jayanthi. Our music teacher, Mr. Satheesh Nair taught the children a new Malayalam song.